XI National Conference BIFI 2023
For the first time after COVID-19 pandemics, the XI National Conference BIFI 2023 (https://bifi23.bifi.es/) of the Institute for Bio-computation and Physics of Complex Systems was held in-person at the Institute premises in the I+D building, which provided us the opportunity for celebrating a scientific reencounter, strengthening existing collaborations and promoting new ones within and outside the Institute. All BIFI members, specially those in the early stages of their careers, were specially encouraged to participate and showed their contributions. The sessions was from 25th to 27th January in the I+D Building in Campus Río Ebro.
The objective of this conference was to provide participants with the opportunity to disseminate their work in any of the research lines promoted by the Institute; from Physics and Computation to Bio-Physics, Bio-Chemistry and Cell and Molecular Biology.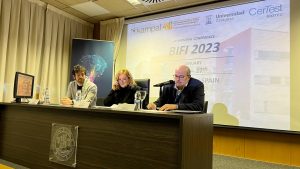 The opening session was chaired by Rosa Bolea, Vice Rector of Science Policy of the University of Zaragoza, Ramón Guirao, Director General of Universities of the Government of Aragon and Yamir Moreno, Director of BIFI.
Moreover, it was sponsored by two local companies that have been collaborating closely with the institute for a long time: CERTEST BIOTEC and KAMPAL