El Instituto BIFI ha participado en la identificación de un nuevo fármaco para la Amiloidosis Familiar, una enfermedad degenerativa multiorgánica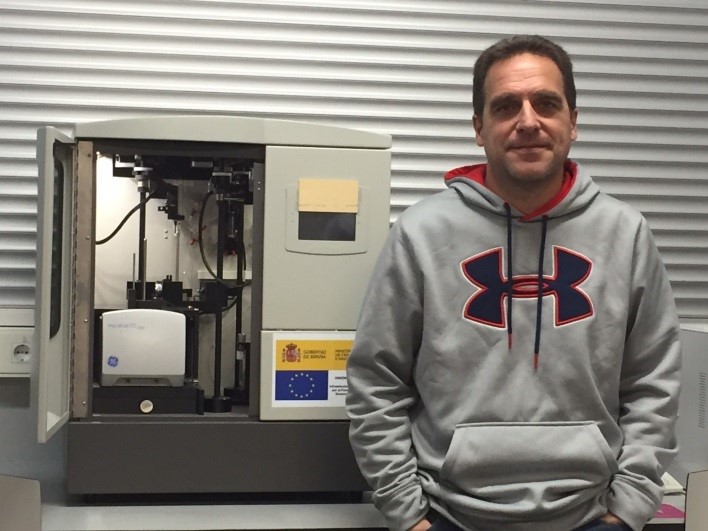 La ATTR es una enfermedad minoritaria y degenerativa, que afecta principalmente al sistema  nervioso y al tejido muscular del corazón. Es una enfermedad hereditaria y aparece cuando el hígado produce variantes defectuosas de la proteína transtiretina (TTR). Estas variantes de TTR presentan defectos de estabilidad y plegamiento, de modo que se forman agregados tóxicos de fibras amiloides. Las fibras amiloides se depositan en diferentes órganos (cerebro, riñón, nervios, ojo, corazón), según la mutación implicada, y provocan un fallo funcional del órgano afectado, dando lugar a las diversas formas de esta enfermedad. Normalmente, la progresión de la enfermedad hace necesario el trasplante de hígado o de hígado y corazón.
La ATTR es la forma más común de Amiloidosis Familiar en todo el mundo. Brasil y Portugal son focos importantes de la variante polineuropática. En España hay una prevalencia significativa en Mallorca y Huelva.
En el estudio se ha demostrado (mediante ensayos biofísicos, in vitro en cultivos celulares, ex vivo en plasma de personas e in vivo en ratones modelo de la enfermedad) que Tolcapone es un potente inhibidor del proceso de agregación amiloide de TTR, y actúa estabilizando la estructura de la proteína, reduciendo la progresión de la enfermedad. Tolcapone es más eficaz que Tafamidis, el único fármaco que disponible actualmente para tratar esta enfermedad una de las variantes (polineuropática) de la enfermedad.
El nuevo fármaco presenta importantes ventajas. En primer lugar, se ha probado su eficacia en tres variantes de la enfermedad (polineuropatía, que afecta a nervios periféricos; cardiomiopatía amiloide familiar, que afecta al miocardio; y amiloidosis sistémica senil). En segundo lugar,  Tolcapone puede atravesar la barrera hematoencefálica, de modo que representaría el primer tratamiento para las variantes de la enfermedad que afectan al sistema nervioso central. Y en tercer lugar, es mucho más barato que el tratamiento actual.
Tolcapone podría estar en el mercado en un plazo de cinco años. En un ensayo clínico preliminar (liderado por el Dr. Josep Gámez, Institut de Recerca del Hospital Universitari Vall d'Hebron, en colaboración con SOM Biotech) realizado con personas afectadas con la variante neuropática de la enfermedad se ha demostrado que Tolcapone estabiliza el 100% de la TTR presente plasma en todos los pacientes tratados.
El reposicionamiento de fármacos permite identificar nuevos usos terapéuticas para fármacos ya existentes. Con esta estrategia se consigue reducir el tiempo para su traslado a la práctica clínica y el coste del tratamiento. Tolcapone ha recibido la designación de medicamento huérfano para la ATTR por parte de la Food and Drug Administration (EE.UU.). En Estados Unidos hay un grupo importante de población afectada por la variante cardiomiopática de la El trabajo ha sido liderado por Salvador Ventura (Instituto de Biotecnología y Biomedicina de la Universitat Autònoma de Barcelona), en colaboración con la biofarmacéutica SOM Biotech, ubicada en el Parc Científic de Barcelona, y se ha llevado a cabo dentro del marco del proyecto europeo NEUROMED (http://neuromed.bifi.es, Programa SUDOE – Interreg IV B) coordinado por el Instituto BIFI. En el estudio también han intervenido investigadores del Scripps Research Institute de La Jolla (EE.UU.) y del Instituto de Biología Molecular y Celular de Oporto (Portugal).
R. Sant'Anna, P. Gallego, L.Z. Robinson, A. Pereira-Henriques, N. Ferreira, F. Pinheiro, S. Esperante, I. Pallares, O. Huertas, M.R. Almeida, N. Reixachs, R. Insa, A. Velazquez-Campoy, D. Reverter, N. Reig and S. Ventura. Repositioning Tolcapone as a potent inhibitor of transthyretin amyloidogenesis and associated cellular toxicity. Nature Communications
(2016) 7:10787. DOI: 10.1038/NCOMMS10787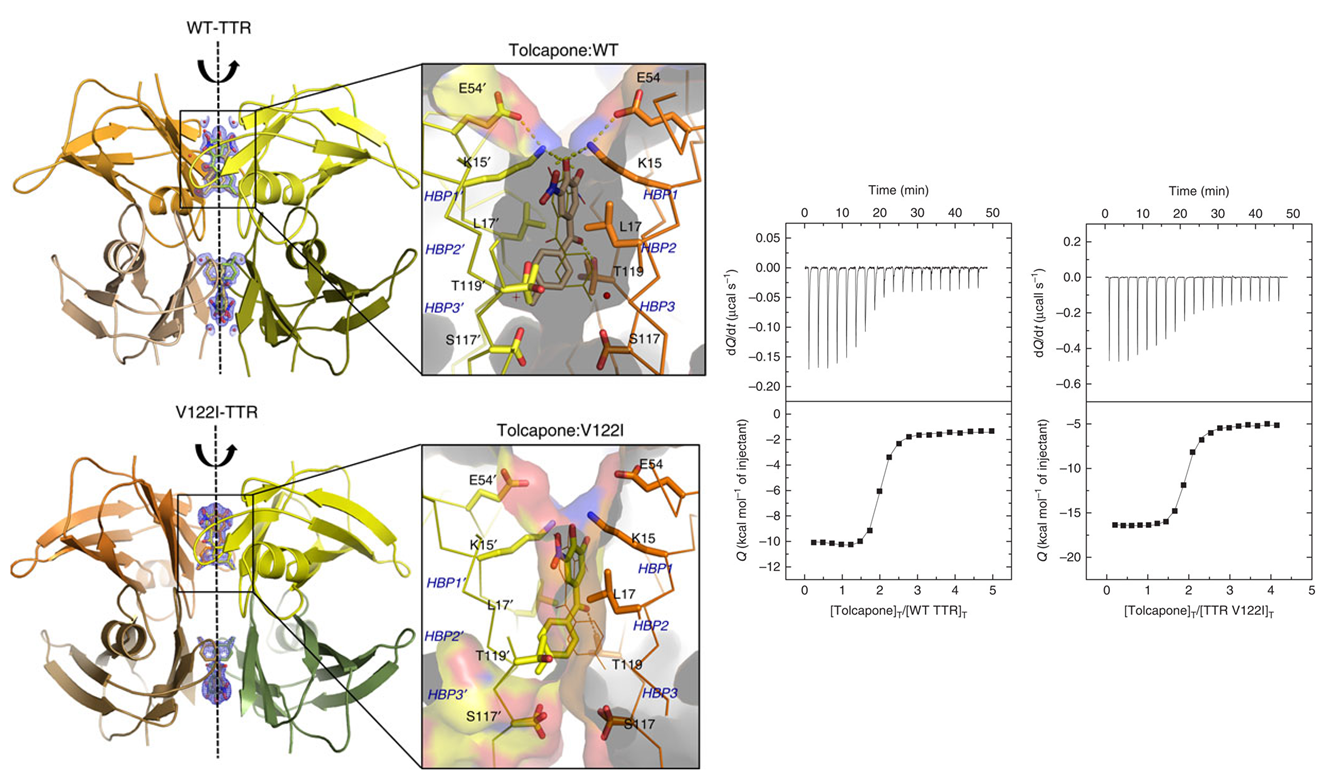 Tolcapone interacciona y estabiliza la estructura tetramérica de Transtiretina (TTR) y su variante V122I asociada con la cardiomiopatía amiloide familiar, impidiendo la formación de agregados y fibras amiloides.