The sixteenth edition of the RES USERS CONFERENCE in Cáceres comes to an end, with an enormous success in terms of participation
Barcelona was announced as the next venue in 2023, coinciding with the installation of the MareNostrum5
Zaragoza (19/09/2022). Last week took place in the city of Cáceres the Annual Conference of Users of the Spanish Supercomputing Network (JURES), in which more than 100 experts participated in 30 sessions. It was a 100% face-to-face event (after the last two editions that were held online by Covid-19), organised by the Barcelona Supercomputing Center (BSC) and CénitS – COMPUTAEX at the Jesús Usón Minimally Invasive Surgery Centre. This centre also houses the facilities of the Fundación Computación y Tecnologías Avanzadas de Extremadura, COMPUTAEX.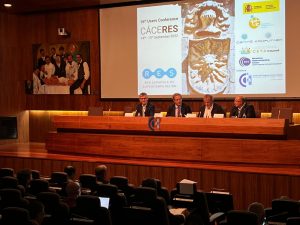 During the two and a half days of the event, different plenary sessions and scientific and technical conferences were held by specialists in supercomputing and users of the RES resources. Several High Performance Computing (HPC) service providers also attended the event, giving workshops and training sessions for the technical staff of the institutions participating in the network.
In addition, the fourth edition of the "RES Awards" was held, which recognised: the best scientific article that has used the RES infrastructure resources; a poster exhibition in which the results of various projects and articles were presented (which went to Carlos Alberto Ramos-Guzmán); and the lifetime achievement award, which in this 2022 edition went to Joaquín Espinosa García. The attendees had the opportunity to learn from the director of operations of the BSC, Sergi Girona, about the new developments of the RES related to the MareNostrum5, and other relevant projects such as Quantum Spain, among others. These days were also used to celebrate the monthly meeting of the EuroCC project, which ends in December 2022, but which will continue its lines of work from January 2023 in the framework of the EuroCC2 project, for 3 more years.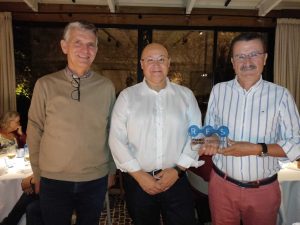 The Spanish Supercomputing Network (RES) is an initiative of the Ministry of Education and Science created in 2007 and classified as a Singular Scientific and Technical Infrastructure (ICTS). It is distributed throughout Spain and is made up of 14 nodes interconnected by high-speed networks. Its mission is to offer supercomputing and data management resources and services necessary for the development of innovative and high quality scientific and technological projects, through competitive calls based on the scientific excellence of the projects to be developed. The current members of the RES are Barcelona Supercomputing Center – Centro Nacional de Supercomputación (acting as coordinator), University of Zaragoza-BIFI, University of Cantabria, University of Valencia, University of Málaga, Universidad Autónoma de Madrid, Instituto de Astrofísica de Canarias, Centro de Supercomputación de Galicia, Supercomputación de Castilla y León, Centro de Supercomputación de Extremadura, Consorcio de Servicios Universitarios de Catalunya, Port d'Informació Científica PIC, NASERTIC in Navarra and the Centro de Investigaciones Energéticas, Medioambientales y Tecnológicas CIEMAT.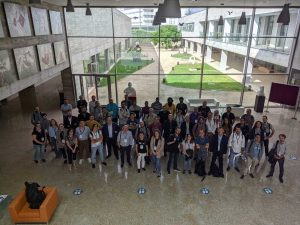 More information: