IEDIS-BIFI Seminar on Collective Intelligence Data Analysis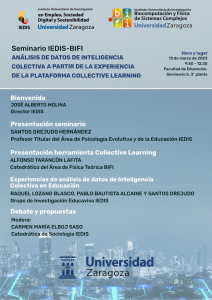 This first seminar, organised by the University Institute for Research in Employment, Digital Society and Sustainability (IEDIS) and the Institute of Biocomputing and Physics of Complex Systems (BIFI) of the University of Zaragoza, was held on 13 March 202 at the Faculty of Education of the University of Zaragoza.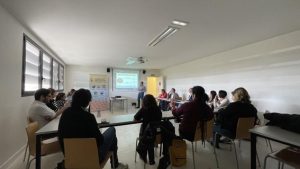 Researchers from various fields of sociology, physics, economics, education and citizen participation took part in the event, which allowed for an interdisciplinary approach to collective intelligence, given the opportunities it can offer.
The speakers themselves were experts in different fields. Among them, the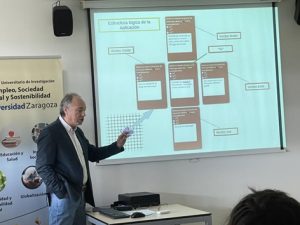 researcher Alfonso Tarancón Lafita, professor of the Area of Theoretical Physics, Department of Theoretical Physics at BIFI presented the Collective Learning tool. Developed by researchers from the BIFI Institute and the company Kampal, it was shown that it offers an ideal framework for researchers from different environments and areas to analyse the interaction processes that occur in it and the quality of the responses that are generated.
Collective intelligence offers a conceptual and empirical framework in which to address research on collective problem solving of different kinds. The possibilities for collaboration offered by the Internet greatly increase the number of people who can be involved in the processes of analysis and the search for solutions to different problems, but this also brings with it some additional difficulties. In an attempt to improve these processes, this seminar served to share results and generate new research questions.
LMP46_21 of the University Institute for Research on Employment, Digital Society and Sustainability (IEDIS)